Highlights of the New Efficiency launch, 6th Oct, Wembley Stadium
October 07, 2009
Yesterday was the IT Pro 'new efficiency' launch for Windows 7, Server 2008 R2 and Exchange 2010 held in Club Wembley in Wembley Stadium, London. Great first impressions, it was a fantastic venue to hold such an event. The conference was split into two tracks, client and server and there were some interesting talks in both tracks, so I roamed between them.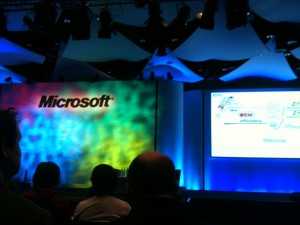 I've been using Windows 7 since the public beta and it still amazes me the number of features I still havent got my hands on. The first talks of the day, 'Windows Without Walls' and 'Manage Risks through Enhanced Security and Control with Windows 7' showed off some of the new features available in Windows 7 in order to help with security and policy control. Highlights for me were AppLocker and BitLockerToGo.
AppLocker is a way of creating a white-list of permitted applications that may be run by end-users. The recommendation was to create the white-list first and then turn on the functionality, as the default action is to deny all applications from running. The rules for AppLocker were very flexible, being able to set a rule for a given executable name, a given version, an application name, or by publisher, and it seemed to work very well. I thought the deny prompt could be made a little more intuitive, and didn't really fit into the look and feel of Windows 7.
BitLockerToGo is a way of encrypting all the USB keys and USB hard drives we all use on a day to day basis. Unlike BitLocker on Vista, it is easy to enable (by right clicking on the drive and selecting 'Turn on Bitlocker' in the context menu). You are also able to access your encrypted data from down-level OS's like Vista, Server 2003 and XP, but only in read-only mode. As an administrator, you can also set up a policy so that any USB devices connected to PCs in your domain must be encrypted with BitLockerToGo before use, otherwise you can only read from the USB device - shown to a great effect. This is great for securing data stored on USB drives, a number of which get lost on a daily basis.
I've known about Windows XP mode for Windows 7 for a while but not seen it in action as my PC's processor is one of the few Core 2's without Intel's Virtualisation Technology (IVT). It was great to see that applications that run under XP mode pop up in their own window without imposing yet another another Start menu, and especially good for incompatible legacy LOB applications.
Another great feature is the Problem Steps Recorder. This is a fantastic diagnostic tool which I think is going to make a big difference within IT helpdesks. Essentially if someone rings up with a problem, you can ask them to run Problem Steps Recorder, hit record and do the thing they wanted to do. It packages up the steps as series of screenshots and highlights any relevant input such as button clicks or menu options, contained in a ZIP file, which can be sent over to helpdesk.
Some of the other highlights in the Server 2008 R2 track which I moved over to the for the remaining talks of the day included:
Using Virtual Machine Manager to administer your entire cluster from a single PC and giving you a high-level view of the health and state from the dashboard.
Live migration, whereby a virtual machine can be migrated to another node on a cluster without interruption to users or services or having to shut down or pause the virtual machine. This was shown to great effect in a demo where an RDP connection was initiated to a virtual machine, and a large file copy operation started. While the file copy operation was still in progress, the live migration tool was run, the virtual machine moved to another cluster node and the remote desktop instance left untouched, with at most a half second pause.
Application remoting, in which the remote application looks just like the native application would look, with Aero/glass included. A demo was shown where media player was set up as a remote application and a 720p clip was played running at full speed over the RDP instance.
The final talk of the day before the wrap up keynote was Exchange 2010. It looks like the team have made some great strides to keep ahead and now provide customers with a number of options to allow for higher availability of their Exchange service. With 2010, Exchange can be hosted in the cloud, within the premises (as is typical currently), or as a mixture of both. It also integrates other services such as voicemail, and can transcribe voicemails into text if an appropriate transcription tool is installed. The team have also made some significant changes to the structure of the Exchange database, which is now sequential rather than random access lending both to higher performance and allowing other storage technologies to be used, like standard SATA drives and JBOD arrays. We also got a sneak peek of Outlook 2010 and the Outlook web access. I was pleased to see that web access finally has the same look and feel across most of the major browsers with Firefox, Safari and IE supporting the 'premium experience' as they brand it. It would be great to see this extended to Opera and Chrome though.
In all it was a great day and we got to walk away with a physical copy of Windows 7 Ultimate - yeah!