Getting the best out of an Acer Revo in Windows 7
March 24, 2010
A couple of weeks ago I picked up an Acer Revo on the cheap as a replacement for my old behemoth of a HTPC. The Revo is a "nettop" with netbook parts in a slimline case not much bigger than many routers currently on the market.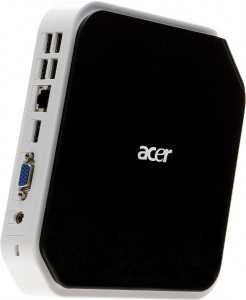 I picked up the basic version with 1GB RAM, and a single core Atom N230 running at 1.6Ghz running Acer's custom Linux install. The kicker was the inclusion of the Nvidia Ion chipset which includes a Geforce 9400 on-board, sufficient for accelerating pretty much any HD content you want to throw at it. In use its practically silent, using a 2.5" laptop hard disk and small active fan which throttles down during use.
First thing I did was to get Windows 7 on there to see how it would handle and I was pretty impressed with the experience. I left the Aero theme enabled as it seemed to perform better than running the Basic theme. Standby and hibernate works much better and quicker than my old HTPC. To get the best out of it for my HTPC related tasks I did the following:
Downloaded and installed the latest Ion chipset, graphics and HDMI audio drivers from Nvidia. Select Download Drivers, then ION as the Product Type and ION (Desktops) as the Product Series.
Downloaded Flash 10.1 beta (both active-x and the plugin for Windows). Update: the release candidate (Flash Player 10.1 Release Candidate 2) is now available on the previous link. After installation, you should see an immediate improvement when playing Flash video content on the web as it supports hardware acceleration making Youtube HD (720p and 1080p) and BBC iPlayer HD content fly. Note it doesn't enable acceleration for downloaded content through the iPlayer Desktop application as this uses the Adobe Air runtime instead to play back video and this does not yet support GPU acceleration but I'm hoping it isn't be that far off.
Downloaded the latest version of Media Player Classic Home Cinema (currently at v1.3.1249) which hardware accelerates most of the HD content I've got out of the box without any additional configuration. If it's doing the same with yours you should see 'DXVA' toward the bottom of the window when playing back your content.
If you have a 5.1 amp which supports DTS and Dolby Digital and want to get your content pumping out multi-channel audio in MPC-HC (should the content provide either a DTS or Dolby Digital stream) then you'll need to do a small amount of configuration:
Open MPC-HC and click View > Options
Select 'Internal Filters' to bring up a list of source and transform filters
Double click AC3 in the list of transform filters
In the window that appears, set AC3 decoder and DTS decoder settings as follows:
Additionally, if you want a complete front end without navigating the Windows desktop, Boxee might be worth a look into as it also supports GPU acceleration both on the interface and during video playback. It's also available for Ubuntu and supports the Ion chipset out of the box for accelerated video, for a free alternative. This is based on the very popular Xbox Media Center (XBMC) which also supports VDPAU (Linux's implementation of DXVA).
Got any other tips? Feel free to share them in the comments :)