DropBox as a backup location for SyncToy
January 18, 2010
I've been a big fan of SyncToy since it's first release as a way to maintain backups of my important documents across several hard disks and my NAS as it's very easy to use, and with the latest release (v2.1) performance has been boosted significantly. I've got multiple rules set up so I can just run all folder pairs and let it do its thing without any more interaction with it. Currently, all my backups are on-site, great if a hard disk fails but not so great if something (god forbid) more serious happens!
I recently got into DropBox from their iPhone application with viewers for most popular file types and as a way to negate the need for USB keys to transport files around so I thought it would be great to be able to use a DropBox account as an endpoint for SyncToy.
As DropBox integrates with Windows Explorer, this is very easy to do.
Install the Windows DropBox client which puts a folder (can be anywhere but I leave it in its default location within Documents) that is automatically synchronised with DropBox whenever a file is updated, added or removed. Then, open SyncToy and create a new folder pair. In the left folder I put the location of the files I wish to be backed up, and the right folder I create a folder within the DropBox folder called 'Backup' and use that as the end point.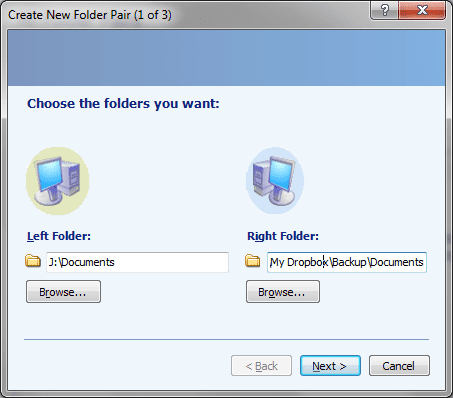 I use 'Echo' as I'm just making a backup from left->right and by running the folder pair I've now got a copy of my important documents in the cloud, also accessible if I need them off-site :)